New post mounted brackets
Due to increasing demand, Iron Design has now released two new variations of our best selling range of projecting brackets. The Original and The Deco, both projecting 750mm, are now available in a post-mounted version.
With a mounting plate of 100mm (4") wide they will fit to any standard wooden or metal post.
The brackets will take any standard Iron Design supplied panels; Moulded Rectangle (graphics area 590 x 380), Moulded Ellipse (graphics area 555 x 340) and a 19mm foam board (600 x 600). Also other sizes can be made to request.
The advantage of a post-mounted sign is that they can be placed in the view of passing traffic where there might not be a suitable wall, for example at the end of a roadside garden or field, hotels and BBs often prefer this option.
To purchase either of the post mounted brackets please visit the Projecting signs departments.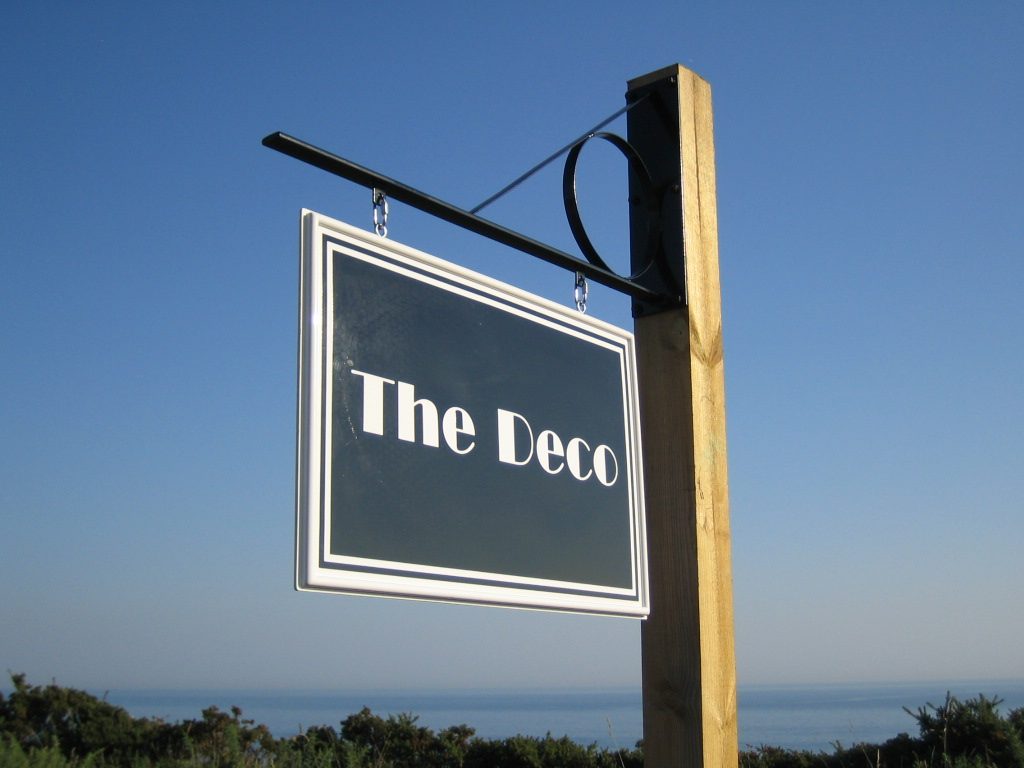 Our new range of LED trough lights
Iron Design has launched a new range of slim line LED trough lights to accompany its existing range of projecting signs.
The new LED lighting units will replace the current T5 fluorescent lights, giving a bright uniform beam of light with lower energy consumption and a lifetime of 50,000 plus hours. This green/eco option will be supplied in 600mm lengths, to suit the standard 750mm sign brackets and Curvex sign, and in 850mm lengths to suit the large 1000mm sign brackets.
The 600mm lighting units will produce 600 lumen and use only 6 watts per side, and the 850mm lengths will produce 900 lumen and use only 9 watts per side. The new slim line profile of the lighting unit is far less obtrusive than other similar trough lights on the market, only having a profile width of 53mm x 25mm. This detracts far less from the visual impact of the actual sign.
These great value lights will be available in pairs supplied with a transformer, cables and all the necessary fixings to mount to the projecting sign bracket. To purchase any of the LED trough lights please visit our Lighting products department.